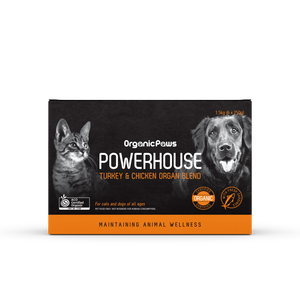 Powerhouse Blend Turkey & Chicken
Regular price $0.00 $48.00 Sale
Bulk Discount Code:
ORGANICPAWS15 (10 Boxes & Above)
ORGANICPAWS10 (5 to 9 Boxes)
This product is a nutrient dense complete meal, containing many different organs blended together with easily digested fresh turkey meat and bone.
A highly concentrated source of abundant nutrients, important vitamins including E,A,K,D and B's, essential fatty acids and quality protein, all required for optimum pet health and function. Suitable for both cats and dogs, this product is great as a variety meal for all ages.
Recommended to be fed as a variety meal with other Organic Paws recipes, Powerhouse Organ Blend with Turkey contains approximately 30% organ and 70% turkey meat and bone.
ORGAN BLEND WITH TURKEY
---
Each 1.5kg box contains three 500g containers for convenience and ease to portion.
Feeding Guide
| Body Weight | Feed |
| --- | --- |
| 1kg-5kg | 100gm-200gm |
| 5kg-10kg | 200gm-300gm |
| 10kg-20kg | 300gm-400gm |
| 20kg-30kg | 400gm-500gm |
| 30kg-40kg | 500gm-600gm |
Puppies up to the age of 6 months required to be fed twice daily.
| Ingredients | Benefits |
| --- | --- |
| Turkey Meat & Bone* | Great for energy and building and maintaining lean muscle. Low in saturated fat, high in protein, zinc, selenium, iron, potassium, phosphorus, niacin, vitamin B6 and amino acid tryptophan. |
| Pancreas* | Beneficial for hormonal function and immunity and helps to reduce inflammation in the body. Rich in protein, omega 3 fatty acids and trace minerals zinc and selenium. |
| Heart* | Supports cardiovascular, joint, digestive and connective tissue health. Very high in iron, selenium, zinc, phosphorus, niacin and riboflavin. |
| Liver* | Promotes healthy skin, teeth and eyes, supports immune system and boosts energy levels. Excellent source of vitamin A, iron, zinc, copper, B vitamins, vitamin C and D. |
| Kidney* | Promotes strong bones, supports immune system and nutrient transportation to vital organs. High in protein, B vitamins, niacin, iron, selenium, copper and zinc. |
| Lung* | Boosts energy and metabolism. High in protein, niacin, vitamin B12, iron, phosphorus, selenium and vitamin C. |
| Tongue* | A nutritionally dense tender tasty muscle meat your pet will love. Good source of iron, zinc, vitamin B12, other B vitamins and trace minerals. |
| Spleen* | Boosts and restores the immune system. High in amino acids, iron, phosphorus, potassium, selenium, vitamin C and healthy fats. |
| Trachea* | Helps to restore and maintain healthy joints. Contains a naturally occurring form of glucosamine and chondroitin. |
| Green Tripe* | A powerful pro-biotic keeping the gut healthy, purifies blood, aids digestive problems, skin conditions and boosts immune system. Excellent source of essential nutrients, fatty acids, enzymes and beneficial bacteria. |